Easy cooperation with Ukrainians
Thanks to our cooperation with ÚFAL from MFF UK, we can offer you essential assistance in communicating with Ukrainians. Give them the opportunity to integrate easily into your collective.
We offer the tool free of charge to the state administration, self-government, organizations and companies, if it helps with integration or with humanitarian aid in general.
Send messages to yourself – translated and protected
Send a message to a colleague who doesn't speak Czech, but only Ukrainian … the system translates it, so the colleague reads it easily and doesn't have to copy anything. You get a reply in Ukrainian and you get a reply in Czech.
Messages in a group are easily replaced by emails – they are also easy to read on mobile phones. If the messages are related to a common topic, you can share them and you don't have to think about who might be interested. Share with colleagues useful information about your surroundings, have them translated and make their lives easier, because they would be much harder to find. When you create an account for newly arrived colleagues, they get to everything immediately.
Everything runs on Czech servers with protection on the same level as financial institutions. Even when translating, the information does not leave the Czech Republic and does not go anywhere where it is not under control.
Use in the public sector
Teachers can communicate with the families of Ukrainian children. Either directly with individual parents or post information on a bulletin board
Workers of the municipal authority can have contact with Ukrainians in the municipality. They can send them an address message, an invitation or any information.
The municipal authority or non-profit organization can publish information automatically translated through a bulletin board.
Thanks to the established accounts, the municipality keeps contacts with Ukrainians and can contact them even if they go elsewhere and find out what is wrong with them.
Communication with Ukrainians in health care
The health center can create contacts with Ukrainian patients it helps. (The system is protected in such a way that information can only be seen by those who have it. Not even administrators. The protection is thus in analogous SMS messages.)
The health center can open a public bulletin board with information about the availability of doctors, challenges, etc.
For nurses from Ukraine, the hospital can prepare information within the system that they need for training and that nurses normally have in Czech. They will give nurses tasks to familiarize themselves with and thus prepare the necessary information.
The hospital can communicate with the patient with a translation and thus send directly to the patient's mobile phone information that nurses and doctors otherwise communicate with the patient orally – the results of the examination, further checks and procedure. The patient will understand thanks to this, even if doctors and nurses do not know Ukrainian.
Ukrainians in the company
The company will have work procedures and methodologies translated in the system and can thus employ workers for skilled positions who must familiarize themselves with the documentation
Teams exchange tasks and information with the Ukrainian worker and take advantage of the assurance that they understand each other better than relying on insufficient language skills.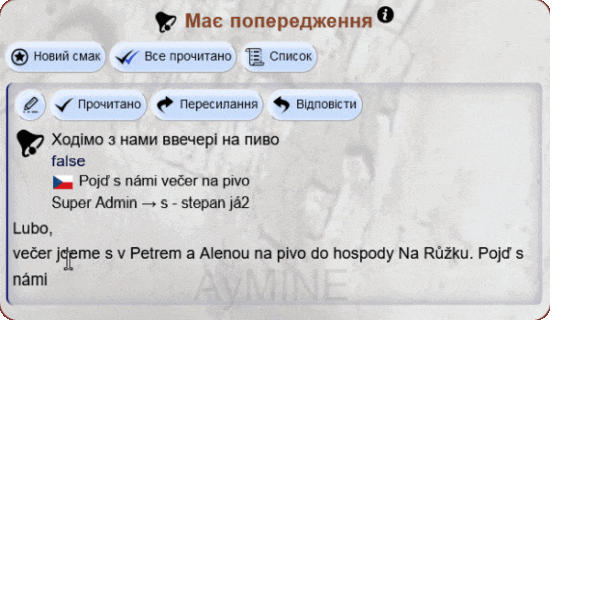 Website with translation into Ukrainian
Do you want to offer information to Ukrainians in the Czech Republic? Use the AyMINE public bulletin board to publish posts directly from the system. You can translate and post each post directly on the system. Pass the link to the bulletin board and all information will be available immediately.
You can create any number of bulletin boards in Czech and Ukrainian or in any other language to share all necessary information. In the system you can set up who can contribute to the site and so basically simplify the whole communication with the public or even with your co-workers.
Share information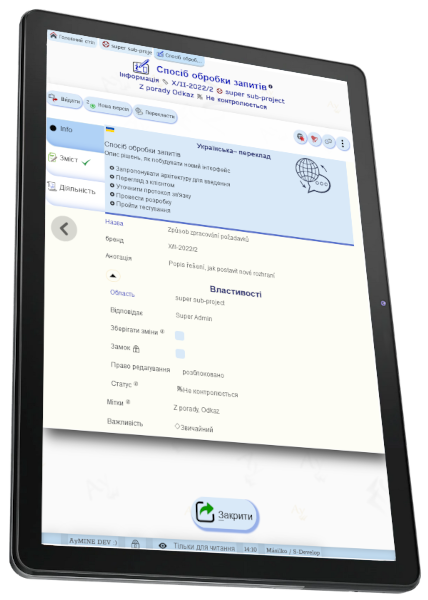 Share information in multiple languages – it will make it easier for everyone to read what they need. One click and the text will be translated for you. You have information in multiple languages next to you, so you know what your colleague has actually read.
The information is stored in both Czech and Ukrainian. You can easily discard what is already out of date, and you can also support language learning, as it is possible to read the same thing in your native language and in the other. But most of all, you provide all the important information in a comprehensible way and to everyone. Whether it's social assistance advice or important corporate guidelines – you can be sure you understand.
For Ukrainians, the language barrier is a major problem. Help them solve it. We need to take the first step.
Translated calendar
The AyMINE calendar, in cooperation with Ukrainians, will provide the same comfort as sent messages. Invite Ukrainians to the event and they will receive an invitation translated. They will also see it translated in their calendar. You can thus organize meetings and meetings and invite Ukrainian colleagues or those you help in your area.
Each user has their own calendar, but you can insert invitations to each other's events or meetings in a similar way as you are used to from email applications. Here, however, invitations do not leave the protected area of the system and you can also attach other useful information or files (files are not translated by the system).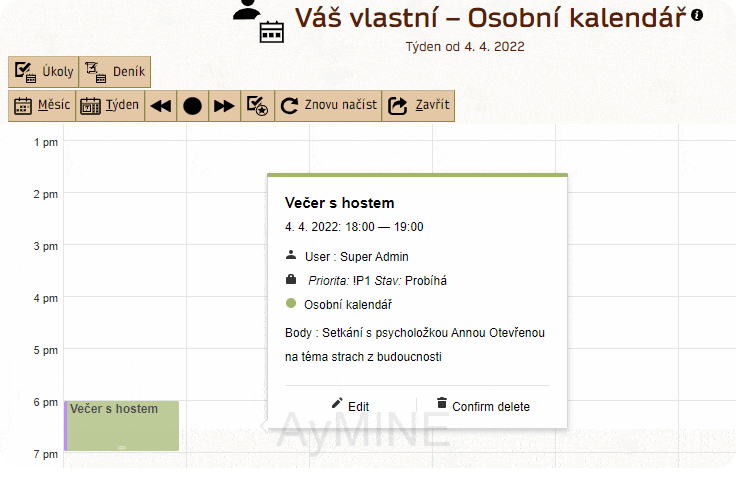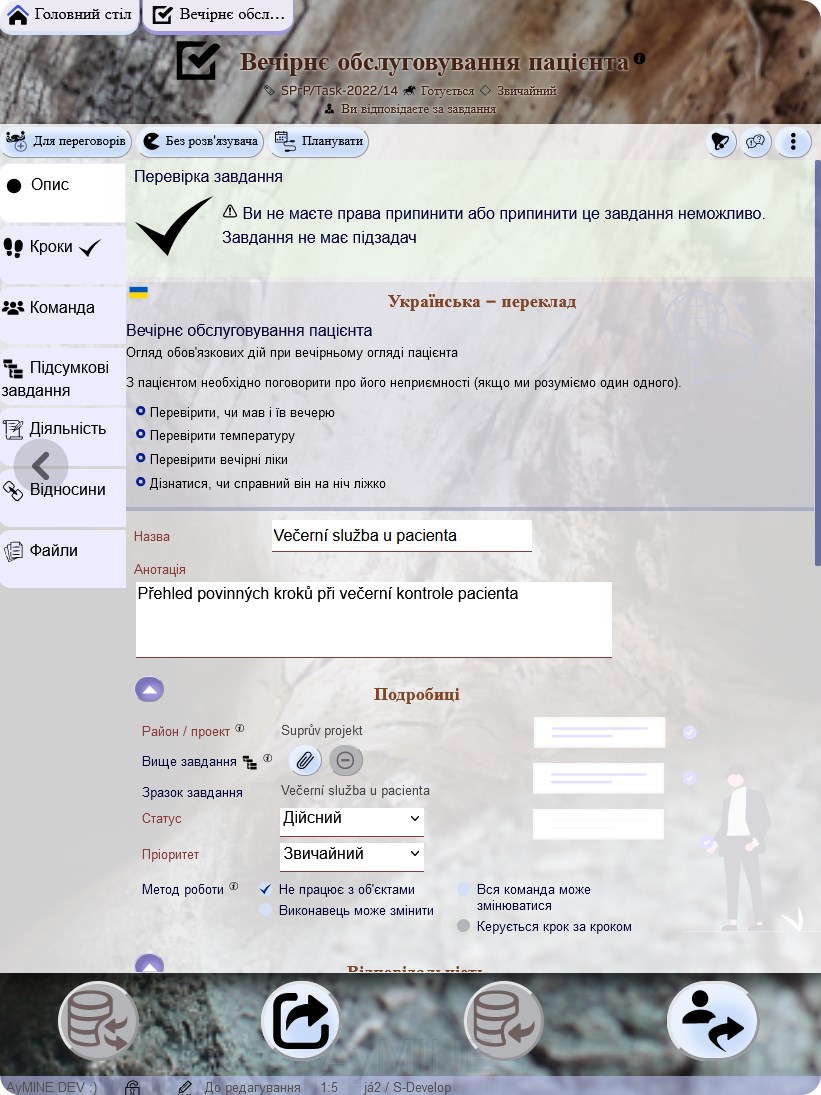 Assignments and Tasks
Are you afraid of foreign colleagues because you can't assign them a task? Don't you understand? AyMINE has a solution for this too – you can also submit the task directly with the translation.
Sample Tasks
you create a sample task that will be saved in multiple language versions. You can assign the same task to anyone on the team and they will see it in Czech or Ukrainian according to their language settings. You can use the same way of transmitting information, tasks and invitations with Czech and foreign colleagues.
Tasks can be team tasks – a common task for a group of people. The same task is seen with a translation into their own language thanks to the multilingual assignment. Creating a Ukrainian translation is very easy. Just write the description in Czech, save and run the translation. Automatic translation creates a new language version.
Sample tasks are useful when you submit the same work repeatedly or when you have a task given by rules. For example, you can share procedures with new nurses or doctors within the hospital
Operationally assigned tasks
You can also use the advantage of translation for tasks that are not prepared in advance. Send a task written in Czech to a colleague and he can have it translated immediately. The translation stays stored with the task, so you can also check what the translation actually created. So people don't have to copy the tasks into online translators, where you have no certainty where the texts will go and what they will be used for one day.
Multilingual viewing will also help greatly in cooperation. Even if you agree a little but are not sure, bilingual viewing will make communication much easier. And by looking at the assignment together, everyone will be sure of the text. This does not create two mutually separated worlds side by side, but one common – bilingual.
Czech-Ukrainian communication easy
You don't need to install AyMINE – everything runs from us. You just need to want to cooperate and allow those who seek our protection and help to understand each other. Through AyMINE, Czech-Ukrainian communication will be much easier. Whether you need to coordinate assistance within the community, communicate with the families of Ukrainian schoolchildren, or would like to give them a job with you, you can have easy communication with AyMINE.
How to start? Let us know – the contact is on the bottom right. We will create your organization, school or just a group that helps the workspace and everything else you can do on your own.
If necessary, videos with help are on YouTube, the system has a help for each page and of course we are available.
Every month new features
AyMINE is a system that has constant support. Every month you get new features. Are you missing something to do? You can get in touch and we will try to meet your need. The system has a development team that has the ability to respond to your needs. Thanks to this, we managed to support the Ukrainian language in a record short time – in 2 weeks from the idea.