Automated Quality Management System
Replace a set of documents with an efficient workflow system and you find out how to care about the quality effectively. You'll see the all work takes less time and is of a higher quality
Take advantage of modern technology. Instead of documents, deploy a workflow system that controls the process, gives everyone instructions for the task and documents everything automatically for audits. Automate compliance checks for laws, standards and norms.
By automating, you save time and meet the standards that require system support. Easily meet the most demanding standards for development, testing, and testing, but also streamline repetitive tasks and routine activities.
Experience has confirmed that QMS with the process support saves time in compare to the management before the introduction of standards
System support for records and processes is suitable for process obligations of all standards and regulations:
Mandatory records
Planning and management of mandatory audit activities
Automatic creation of mandatory records and simplification of logs
Complete management of the quality system and all organizational regulations and directives
Management of work procedures in accordance with the quality system or internal methodology
Using team task patterns – Infographics
Why the quality management system is perceived as difficult
Brings a lot of "paperwork"
You need to know and follow the rules, so it requires learning.
Often the procedures required by QMS are considered inappropriate.
The biggest problem, however, is often that workers do not see the benefits that standards should have. Often rightly so, because if the only goal is to "meet the standard somehow", there are no benefits. And if processes lack system support and automation, QMS creates a lot of bureaucracy.
Meeting standards requires system support
A task management system is essential for the correct implementation of standards related to processes in an organisation:
Automates task assignment
Facilitates work, as each employee has the assignment and all supporting documents at hand
Automatically generates the evidence required for the audit
Links the tasks to all the records that are handled
"Document management systems that support controlled documentation usually add work instead of helping. Instead of facilitating quality work, they force an inefficient way of documenting it."
Process-oriented standards need management support

Organisations often have document management support to manage the quality management system, which supports controlled documentation. This is effectively a DMS, but it does not support processes. In addition, it requires all procedures, protocols and records to be in documents.

General standards for which the task and process management system is important

General standards – no industry specific

ISO 9001

It is impossible to start with something else than the most common standard. It is not uncommon for companies to "get" the ISO 9001 / ISO 16949 standard and nothing changes in the way teams operate. But even these standards, when actually implemented, requires that:

Everyone is trained for the job
It is clearly stated for each activity what it means to be done correctly
Important steps and outputs are verified

The task management system automates these requirements so they can be met without supervision and usually without training. Of course, there is also automatic proof that the activity requirements have been met.

ISO 20000

The standard requires that activities are more carefully monitored, data are collected to evaluate service delivery and services are regularly reviewed. The task management system is key to ensuring that the mandatory data is available.

ISO 27000

The standard dealing with security mainly contains rules for securing devices. It is therefore not primarily process-oriented. The process support benefits for ISO 27000 are mainly in supporting the record-keeping part, non-conformance management, risk management and other supporting process automation. The critical part where the task management is important is the systematic check that important activities are not forgotten.

However, system provides significant support with data safety taking control over the documents and all business data and improving their safety.

Automotive standards

Automotive standards can be divided according to two basic keys:

General × Proprietary manufacturer-specific
Manufacturer-specific × Manufacturer-specific

The IATF 16949 standard in particular, but also proprietary TFP. In terms of the importance and benefit of system support, ISO 16949 is on a par with ISO 26262.

A number of standards, both proprietary (e.g. Formel Q) and generic (ISO 26262), are being developed, ASPICE, or VDA 6.3.

All of these standards cannot do without task management. Their requirements for accuracy of procedures and control of all steps are so high that it would be very difficult to keep track of everything. In addition, however, it is necessary to have evidence of the completion of all steps, which is completely impossible without electronic activity management.

In addition to process support, keeping track of all the records that must be processed (plans, requirements, tests, etc.) is also important for standards. In addition, it is important that the records are integrated with the tasks, because the records must include an overview of how each record was processed.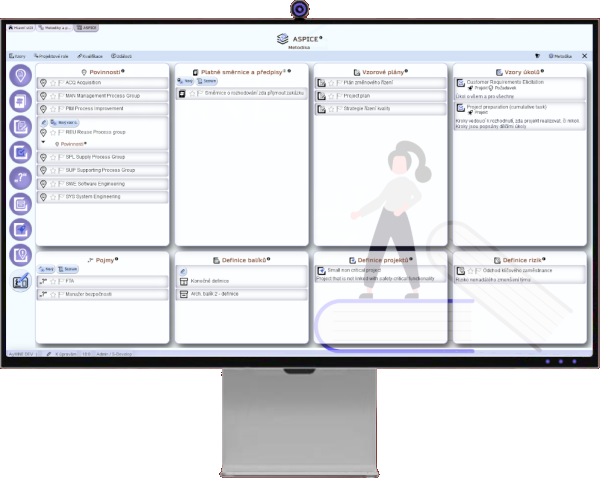 Let's do it another way
In designing how to automate the activities required by the standard, we focused on the areas that desperately need system support and those that cause the most complications.
"A quality management system with AyMINE replaces 80% of documents with automatically generated records. This fundamentally saves people's time and contributes to compliance with the standard.
| Problem with standards | System support resolves |
| --- | --- |
| Standards require proof of what has been done. Without system support it is very laborious | Evidence of activities arises automatically |
| SMJ requires to remember revisions, audits, etc. | AyMINE automates the scheduling of revisions and audits. Tasks are automatically assigned to people who are qualified to do so |
| ISO standards and similar documents are long dull reading | We have become familiar with standards. You don't have to study it, we or our partners will provide you with ready internal methodologies |
| SMJ doesn't help, it just adds work, so it's not being done in time, but it certainly doesn't make working better | Instead of directives we offer automatic tasks with workflow to everyone's desk when they need it. No need to study or do anything without benefit |
Significant labour savings
Automation will help with everything that information systems are "experts" in – information management and control:
Instead of needing to know the standards, workers have tasks on their desks that are correctly described.
AyMINE automatically creates 90% of mandatory activity records, so there is no need to create any records of who did what, made decisions or reviewed what
The system stores all the information needed by the auditor – creating a work-free foundation
Responsible staff and managers have a constant overview of which activities are being carried out, and what the status of the work is.
Tasks are automatically assigned while checking that competencies and qualifications are met
Effective communication and information sharing support greatly simplifies the work itself
AyMINE provides system support for processes that complies with ISO 26262, ISO 61508, Automotive SPICE, CMMI, as well as many other process-oriented standards.
Support for obligatory process areas

Standards across disciplines require processes to be in place in a project that are intractable without system support:

Configuration management for requirements, products and documentation
Change management to enable the project to control the incorporation of changes and their impact on requirements and solution design
Management of tasks, responsibilities and control of their execution
Risk management
Problem management
Review and commenting
Quality verification/acceptance/testing
Monitoring and documentation of equipment or instrument revisions (metrology). Designed also to record cybersecurity controls (according to ISO 27000)
When you want more