Efficient company
Avoid unproductive work and simplify necessary tasks. Apply proven research results about the personal behavior and make each task effective.
We have built up tools that boost the work of both daily agenda and projects. We used the best from the quality standards like ISO 9001 as well as dozens years of experience both with agile technologies and business operation. We help to improve both quality and efficiency thanks to the
Automation
Great information management
Cohort of tools for internal communication.
"Quality Management, task and information simplification are the most essential areas of efficiency improvement. They save the most important value – people's work and satisfaction with work."
Read more: What workhorses hate and goblins love

Research study results: What most productive persons can't stand

Research among thousands of workers verified, that principal causes of the inefficiency also makes the best workers most frustrated: Repeated routines that are no creative, troubles access to information and ineffective internal communication.

There is significant difference between really productive persons and team workhorse and persons who have no real engagement – called goblins. Whilst the workhorses are frustrated from inefficiency because they can't stand when work is not done, the goblins are frustrated when tasks are precisely defined, optimized and controlled. Well defined tasks and open communication creates efficient controls over the real quality and productivity that goblins hates.

Although workhorses are typically only small part of the team they make significant part of work and build up working culture. They are also crucial for team and company success and so their frustration is really risky – their exit is much bigger lost than several leaving goblins.

Accuracy in assigning tasks

Managers approach to the task assignment is various but two types are common:

Work waster

Some managers love tasking other people. Whenever a new work raises, they love to call someone it throws the work to them.

They are good in the work portion, but rarely they control how many real work each team member has. They are not used to make evidences of tasks and so the control of work is chaotic.

Turnover in the work water' team is high. People never know what will come in the next moment. There are people who almost has nothing to do but know how to make a face of overworked persons. And their colleagues without the pose skills are constantly overloaded.

Manager introvert

Introverts hates control of other persons as well as discussion about tasks. Introverts prefer make work by themselves.

Introverts are overworked but people in their team are relaxing. At least until introverts lost the mind and throw the towel to the ring.

Introverts usually have not high fluctuation in the team – they are often the first who is leaving. However, they made a significant part of work and their leave is real lost. Although team is more relaxing, people are not satisfied. They understand manages discomfort, but they also miss information, leading and motivation.

For both of them the task-management system brings important improvement:

There is much better overview about the team function
Workers and goblins in the team cannot put on face of overworked guys
Higher manager or HR manager have data to help them improve the managerial patterns

AyMINE task management significantly improves them manages style. It leads them, makes the management transparent and controllable. Task management brings you the most modern way of managing tasks that it can find. It combines methodologies and standards, automation, but also flexibility that workflow systems do not offer.

Keeping information and documentation together

Management of both operational and archived information is the cornerstone of an information management and efficient company. Information is far from just documents. Usually, a shorter structured records are more efficient. The only reason using documents for internal information is that nothing better is known or available.

AyMINE keeps information in a structured way, but it also completely manages documents. Structured information, tasks, decision-making in another common agenda can be easily linked to documents such as contracts, orders, but also requirements problems, etc. AyMINE also provides you with a file archive function, so you can archive documents for a long time with the certainty that you have full control over access to them.

Work reports

Work reports do not seem to be an important object at first glance – leaving aside the basic need to comply with the legal obligation to monitor working hours as well as to control people's work.

Effective work reports must of course allow you to fulfil legal obligations, but they should also provide data for planning, quality management and evaluation of the efficiency. To fulfil such a long list of needs this, they shall be properly structured and linked with tasks.

AyMINE pays great attention to reports. As a result, they time sheets become valuable assets for a company management and brings important insight without necessity to spend a penny for that.

Balanced information sharing and protection

Everyone have experience searching for important essential information. Even the information stored recently directly by us sometimes totally disappears.

Nevertheless, information management solves much more than searching for improperly stored document. The management starts with vision of what information is important. Sharing is the 3rd step – there must be data gathering, processing and analysis before sharing could be effective.

An important part is an artificial intelligence searching for related information. Searching supported by the AI suggests not only information with terms from the search formula but also optionally related.

Information management

Automation of compliance and evidence collection

Compliance with many regulations and standards an important business agenda. Whether you're making car electronics, building bridges or baking cakes. All business activities are under several regulations that shall be observed. And that's exactly where the compliance support and automation supports the business efficiency together with the regulation observation.

By the way, the regulations and evidence collection was at the very beginning of the AyMINE system. That's why the support is ultimately integrated with other processes and activities.
Optimized meeting management
Meetings are ground of the effective team management regardless if they are on-site or on-line. However, everyone spent a time on a meeting that seemed long, unnecessary, unproductive.
Although meetings may not seem to be the most important item for automation, they are crucial adept for technological improvement.
Why automatically recorded meetings minutes don't help

Several companies and almost all on-line meeting platforms offer the automatically generated meeting records. It looks like that could save time but the results are mostly useless. And even an artificial intelligence could not help with that. At least not in near future

What makes the automatic meeting recording

The best recording system:

Records almost everything that was discussed
Identify speakers and assign sentences correctly to the authors
Recognizes words and make written transcription

What meeting records cannot do

Regardless how good they are in the speech recognition, they cannot:

Sufficiently distinguish important results from discussion or even chatting
Assign information to the tasks and discussed objects
Does not support on-site meeting where things are discussed around the table. (Yes, you can start Teams for on-site meeting but who can wait for turning camera? And still it does not get important data like voting results.)

Automatic transcription from meetings can be used as evidence. When stored, they can prove what was discussed or voted.

Nevertheless, they are very ineffective for work with information from meetings. Personally made short notes about important results provide much better summary than automatic summary made by AI.

Inefficient meetings generate large cohort of consequential problems: time waste, dysfunctional decision-making, missing information, missing evidences for regulations. Meetings are often in the center of all the problems.

How to make meetings effective

Meetings have long been perceived by employees as one of the biggest problems, and that is why we have been particularly careful about them.

At AyMINE, however, we have been involved in meetings also for another reason – that's place where are made decisions, task are resolved, information discussed. All these activities are very important for further work, and missing meeting records causes missing decision, tracking records etc.
Information management
Information is the treasure of all active businesses. Our system will help you continuously gather some of the most important information you need – real data about productivity and work efficiency.
In addition, an intelligent information management system ensures that it is protected and shared.
Artificial intelligence finds reserves
Automatic evaluation of your data by artificial intelligence algorithms identifies where your company's work is inefficient. It analyses tasks, job reports, costs and returns, and evaluates where management attention is important. The AI saves managerial capacities and single manager could easily manage more persons in the team.
Emails are not efficient
Efficient internal communication and information sharing eliminate most of the useless email messages. Reduced number of emails makes work with them more effective and separates internal and external communication. Last but not least, emails from your business partners or potential clients will not be lost under tons of internal messages.
"Communication problems are the most common reason why people are unhappy in the workplace."
A set of internal communication tools will simplify cooperation and save time and improve team mood. Last but not least, it will reduce the company's dependence on specific people and thus reduce the risks of losing them.
Attention ordinary daily tasks
With everyday duties, even a small saving of work is valuable. AyMINE automates this area to save work as well as to lead diligence.
In the box above are examples of the approaches how we have thought about work efficiency. One small thing is not clear though – efficiency is especially in integrating all areas together. This allows information seamlessly flow to and from meetings, be archived as well always available whenever needed. AyMINE also automates communication between systems with the public – e. g. messages and requests from the web. All this will save you a lot of time and nerves
Project management integrated with everyday business
Project management has many similarities to a general everyday agenda – it is a kind of management of a company in a small way. Starting with the plan, through the management of all processes to the product, product or service provided. In addition, the outputs from the project need not to be lost, but the company had them stored, could continue to work with them and used all the know-how.
AyMINE does not separate project management to a standalone area like many project management tools do. Projects are managed together with everyday tasks – project and regular tasks are together in the same pool and managed according to the Quality Management System. The quality standards are applied in the same way to the project as well as to other tasks. Project communication, time sheets, products, assets are under the regular control and so projects do lift part of the company out of control.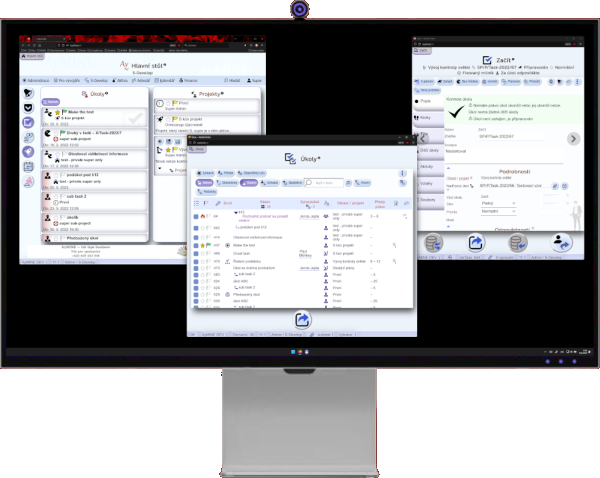 Register your company
See for yourself
Create a corporate account and you can immediately start running tasks, projects, and information management. Check out all benefits and see that an intuitive system saves you a lot of time.
Kde se dozvíte víc